Pilates Classes
Reformer / Combo Pilates
Reformer classes are designed to improve muscle tone through resistance, strengthen the core and provide an invigorating total body workout. The reformer allows the participant to isolate muscles and mobilize joints with minimal strain and joint compression. An assortment of props and variety of exercises are offered by our instructors to add further challenge and broadening of the Pilates experience.
Combo classes are 1/2 Reformer and/or 1/2 Mat or 1/2 Reformer and/or 1/2 Stability chair.
Mat Pilates
Mat classes are designed to help develop leaner, longer muscles while establishing core strength and stability. Props are incorporated to add variety and challenge throughout the session. Instructors will guide you through a range of strengthening and core stimulating exercises focusing on coordination, posture and balance.
Levels:
Foundations (beginner) through to Level 3 (advanced)
Yoga
Therapeutic Yoga
Therapeutic Yoga blends traditional yoga poses, breath work and meditation along with therapeutic exercises in a gentle manner. Classes are intended to support optimal functioning of the joints, muscles and organs and provide relief from pain. The safe movements practiced will facilitate relaxation and restore equilibrium physically, emotionally and mentally while improving flexibility, function, and strength.
Flow Yoga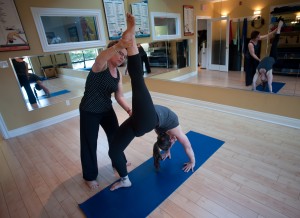 Our invigorating Flow Yoga class increases flexibility, strength and core stability. Flow Yoga integrates breathing with movement as you flow from one pose to the next, decreasing stress, increasing body awareness and leaving you feeling energized and vibrant!
Hatha Yoga
Hatha Yoga brings together the balance of the body, using traditional yoga postures. Classes emphasize postural alignment, coordination of breath and movement, balancing of opposites in the body and relaxation. This yoga practice enhances muscle tone, flexibility, balance, coordination and concentration while detoxifying the vital organs and encouraging a peaceful mind. Hatha Yoga participants leave feeling deeply relaxed, refreshed and renewed. Classes will utilize adjustments and props to aid alignment of the body allowing participation from all Yoga levels, including those with injuries.